Greenpeace NGO or Politics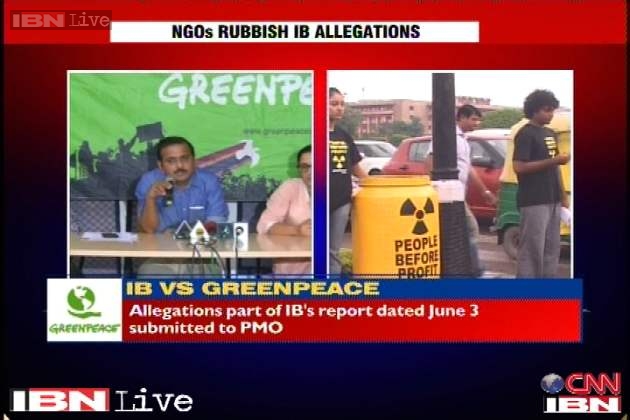 Greenpeace NGO or Politics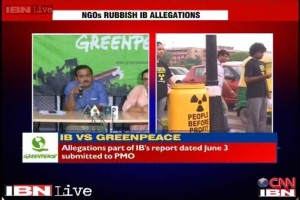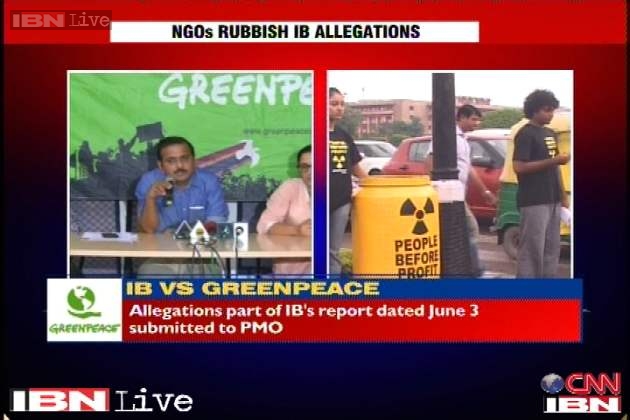 All set to take action against Greenpeace India, the ministry of home affairs served a show cause notice to the international NGO on Friday asking why its permission to get foreign funding under the Foreign Contribution (Regulation) Act, 2010 (FCRA) should not be withdrawn. At least ten more NGO's could receive similar notices within a week.
Greenpeace, a NGO working on environment issues, has been in the centre of controversy with a Intelligence Bureau (IB) report indicting it for fueling anti-nuclear agitations and adversely effecting Indian economy. As per IB source, the evidence against Greenpeace was foolproof and it would be difficult for the organisation to defend itself.
Story:
On March 10, in the run up to the Lok Sabha election, Greenpeace Australia released a research briefing on " Adani's record of environmental destruction and noncompliance with regulations" in India. On June 3, the Intelligence Bureau gave a report naming Greenpeace among NGOs and foreign donors trying to "take down Indian development projects".
These Identified foreign donors cleverly disguise their donations as funding for protection of human rights, `just deal' for project-affected displaced persons, protection of livelihood of indigenous people, protecting religious freedom, etc. And foreign donors lead local NGOs to provide field reports, which are used to build a record against India and serve as tools for the strategic foreign policy interests of western governments."
Some donors like Greenpeace International and CORDAID focus their efforts entirely on such activities, while others such as Action Aid, Amnesty International, etc dedicate a small portion of their annual donations to such projects under "varied veils such as democratic and unaccountable government, economic fairness, etc". It said "people-centric issues" fomented by NGOs violating the Foreign Contributions Regulatory Act (FCRA) included agitations against nuclear plants, uranium mines, coalfired power plants, GM organisams, mega industrial projects (Posco and Vedanta), hydel projects (at Narmada Sagar and in Arunachal) and extractive industries (oil, limestone) in the north-east.
Regarding the anti-nuclear activism that had stalled the Russian-assisted Koodankulam project, the IB said the protests had been fuelled by the Ohio State University, which funded among others S P Udayakumar, who was one of AAP's candidates in the LS polls. The larger conspiracy was unravelled when a German national provided Udayakumar a scanned map of all nuclear plant and uranium mining locations in India. The map included contact details of 50 Indian anti-nuclear activists revealing an intricate network aimed to take down India's nuclear programme through NGO activism.
As for the anti-coal activism, it had been spear headed by US-based organizations and Greenpeace, which have formed a "coal network" to take down 455 proposed coal based power stations in India.
With NTPC being targeted as the "first offender" with 47 projects, Greenpeace has initiated protests through "front entities" against the plan, for instance, of doubling the capacity of the 15,000 MW Singrauli project in Madhya Pradesh.
While dealing with the anti-GMO activism, IB specified six NGOs, including Greenpeace, and five Indian activists, Vandana Shiva, Suman Sahai, Aruna Rodrigues, Prashant Bhushan and Kavitha Kuruganti. IB blamed their activism for the threeyear moratorium on Bt Brinjal by the UPA regime and further restrictions recommended by aHouse committee and the SCappointed technical expert committee.
The stalling of mega industrial projects such as POSCO and Vedanta should be attributed to the role of European NGOs such as Amnesty International, Action Aid and Survival International. Besides, the Dutch government-funded NGOs have shifted their focus from human rights in J&K to twin issues of violence against women and prevention of extractive industries in the north-east. CORDAID plans to take down oil drilling in Manipur, big dams in Arunachal and Meghalaya mine projects.
What is "future plans to take down fresh economic development projects"? In 2014, Greenpeace plans to campaign against palm oil imports from Indonesia, organize construction workers in urban areas and initiate action against disposal of e-waste by Indian IT firms. Other NGOs are expected to protest against various aspects of the Gujarat model of development such as interlinking of rivers.
IB has warned that Medha Patkar will be stepping up her agitation against the Delhi-Mumbai Industrial Corridor.